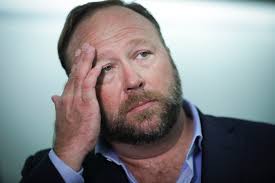 If you are open to conspiracy theories, if you're willing to entertain conspiracy theories, it's because you lack the critical thinking necessary to separate reliable sources from imaginary ones.
More importantly, I've lived long enough to know that if you keep scraping at a conspiracy theorist, eventually virulent Anti-Semitism will come spilling out.
You cannot have Anti-Semitism without conspiracy theorists. Conspiracy theorists fancy themselves highbrow skeptics with an open mind. But they're merely painting over a comprehensive lack of education and a hatred for Jews.
Let me repeat. There is no Anti-Semitism, there is no Holocaust without conspiracy theories. Watch yourself.
The world is a random series of happy and unfortunate accidents. Some things can't be explained. But conspiracy theorists can be. Conspiracy theorists are conspiracy theorists because they're failed academics, failed writers and failed journalists. More importantly, they are failed humans. So, they look outward to explain away their desperation, because looking inward requires a willingness to accept the painful truth about their own inadequacies. That's way too difficult.
You don't have to change, you don't have to study, you don't have to practice intellectual rigor when there is some insurmountable conspiracy out there that's keeping you down.
Googling is not research. Chat forums are not research. When you attempt a grand unifying theory of secret societies, without a brain trained to separate truth from fiction, you will end up contributing to the murder of innocents. So, I'm going to say this again. Watch yourself. There can be no Anti-Semitism, there can be no Holocaust without conspiracy theorists.
As for today's massacre, there can be no NRA without uneducated conspiracy theorists, because nobody buys guns if globalist controlled black men aren't coming for your stuff. The NRA leadership is one of America's largest repositories of conspiracy cranks. Watch Wayne La Pierre's unhinged speeches after a mass shooting. Watch NRA TV. They peddle guns by peddling conspiracy theories. All kinds of theories. But mostly racist theories targeting African Americans, Central Americans and Arabs.
The NRA is smart enough to avoid spreading any blood libel against the Jews. They nibble at the Globalists, Manhattan, Elitists and of course George Soros. But they won't openly pick a fight with the Jews the way they do with African Americans, Mexicans and Arabs.
But every American Jew, and I mean EVERY American Jew, knows the NRA loves Israel but hates the Jews.
As an American Jew reading about Pittsburgh, I'm tired of the NRA insulting my intelligence by telling me how much they love Israel. Tell me you love Jews. Tell me you love and respect Muslims. Tell me you love and respect Central Americans. Tell me there's a place in your heaven for Jews, Muslims and Central Americans. That you can't do.
If you are an American Jew who supports the NRA controlled GOP, I urge you to stay home on Election Day. You're being played.